Manage episode 281152594 series 2813021
By Episodes - 3 Takeaways. Discovered by Player FM and our community — copyright is owned by the publisher, not Player FM, and audio is streamed directly from their servers. Hit the Subscribe button to track updates in Player FM, or paste the feed URL into other podcast apps.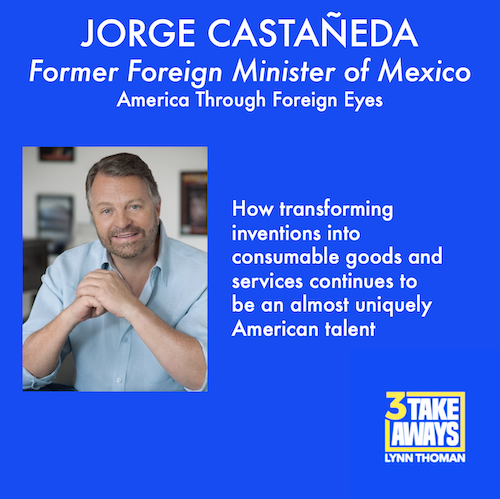 Listen on Apple Podcasts
Listen on Google PodcastsListen on SpotifyListen on Stitcher
Jorge Castañeda, former foreign minister of Mexico, provides a unique perspective on America and the world, including American interventions abroad, American exceptionalism and how it has changed over time, and how Latino immigrants are changing the US. Learn how transforming inventions into consumable goods continues to be an almost uniquely American talent and capability.
Have questions, comments, or suggestions on guests? Reach out on social @3_takeaways or email us at lthoman@3takeways.com. You can also subscribe to our newsletter at the bottom of this page.
Download Transcript
28 episodes