Manage episode 157541798 series 1224910
By
Jason DeBord
. Discovered by Player FM and our community — copyright is owned by the publisher, not Player FM, and audio is streamed directly from their servers. Hit the Subscribe button to track updates in Player FM, or paste the feed URL into other podcast apps.

Desi DosSantos, special guest. This is the seventh 'Prop Talk' podcast by the Original Prop Blog. This is an effort to use old and new technology to bring a richer and more informative and entertaining experience to the site. Desi DosSantos is one of the two founders of ScreenUsed, which was a business that grew out of his own passion for collecting original props and costumes.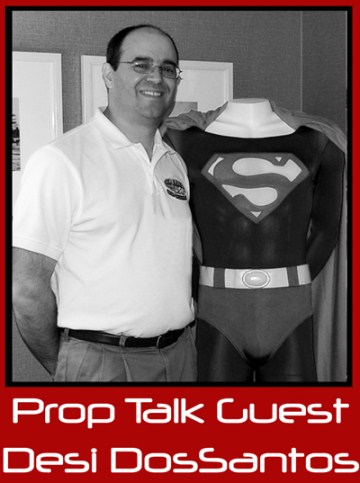 This article hosts the next in a regular ongoing series of full-length audio podcasts featuring one on one interviews with interesting people who participate in and/or affect the hobby of collecting and preserving original movie props, costumes, and other assets. The seventh guest of this program is Desi DosSantos of ScreenUsed.com.
Below is a streaming audio player with which you can listen to episode #007 (length 1 hour, 7 minutes) – press the play icon to start the audio program:
"Prop Talk" by The Original Prop Blog
http://www.originalprop.com/blog/podcast/original-prop-blog-prop-talk-podcast-07-082310.mp3

Episodes can now be downloaded directly via the Apple iTunes Store for your convenience, to listen at your leisure via a computer or portable device (iPod, iPhone, Zune, etc.). Click the portal below to be redirected to the iTunes store:

Note: It now takes less than 24 hours or so for the iTunes Store to update with the latest podcast.
Special thanks to Desi for agreeing to be a guest on the program and sharing his insights and experiences in the hobby.
Jason DeBord
19 episodes