Manage episode 157541791 series 1224910
By
Jason DeBord
. Discovered by Player FM and our community — copyright is owned by the publisher, not Player FM, and audio is streamed directly from their servers. Hit the Subscribe button to track updates in Player FM, or paste the feed URL into other podcast apps.

Darren Julien, special guest. This is the thirteenth 'Prop Talk' podcast by the Original Prop Blog. Mr. Darren Julien is the President and CEO of Julien's Auctions. Julien's Auctions specializes in entertainment memorabilia and celebrity estate auctions, spanning movies, television, and popular music artists. This weekend, Julien's Auctions sold their first piece for a price in excess of one million dollars – one of two jackets worn by Michael Jackson in the Thriller video produced for his milestone album by the same name.
Mr. Julien took the time to participate in this Prop Talk podcast interview for the benefit of the Original Prop Blog audience.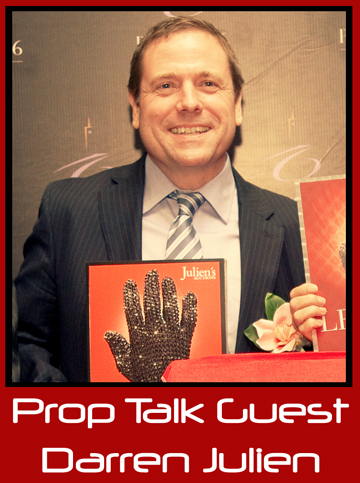 This article hosts the next in a regular ongoing series of full-length audio podcasts featuring one on one interviews with interesting people who participate in and/or affect the hobby of collecting and preserving original movie and television props, costumes, and other assets. The thirteenth guest of this program is Darren Julien.
Below is a streaming audio player with which you can listen to episode #013 (length 1 hour 3 minutes) – press the play icon to start the audio program:
"Prop Talk" by The Original Prop Blog
http://www.originalprop.com/blog/podcast/original-prop-blog-prop-talk-podcast-13-062811.mp3
Episodes can now be downloaded directly via the Apple iTunes Store for your convenience, to listen at your leisure via a computer or portable device (iPod, iPhone, iPad, etc.). Click the portal below to be redirected to the iTunes store:

Note: It now takes less than 24 hours or so for the iTunes Store to update with the latest podcast (made available for free).
You can learn more about Julien's Auctions from their official site, www.JuliensAuctions.com: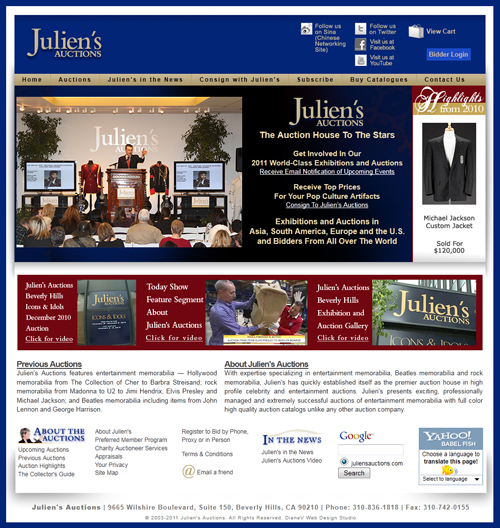 Sincere appreciation to Mr. Julien for talking with me today for the Prop Talk podcast.
Jason DeBord
19 episodes