Fetch error
Hmmm there seems to be a problem fetching this series right now. Last successful fetch was on April&nbsp07,&nbsp2020&nbsp16:48 ()
What now? This series will be checked again in the next day. If you believe it should be working, please verify the publisher's feed link below is valid and includes actual episode links. You can contact support to request the feed be immediately fetched.
Manage episode 182965033 series 1508348
By
Julian Noel and Heather Porter
,
Julian Noel
, and
Heather Porter
. Discovered by Player FM and our community — copyright is owned by the publisher, not Player FM, and audio is streamed directly from their servers. Hit the Subscribe button to track updates in Player FM, or paste the feed URL into other podcast apps.
Episode Highlights:
3:28 – What's the relationship between achievement & desire?
5:21 – Do you believe in self sabotage?
6:39 – What's a recent or past moment that was really hard for you?
10:59 – Self publishing vs big publishing
13:06 – What's soulful desire?
16:41 – How to overcome the fear of promotion
20:32 – How do you work with desires on a daily basis?
21:55 – Is there a collective theme people want you to address when speaking to them?
23:31 – What are some beautiful things you have witnessed with your recent speaking gigs?
25:11 – How often do you speak?
28:02 – Whats song is in your heart that wants to be sung?
29:56 – Were you always your own boss?
35:51 – Tell us about your upcoming book?
39:17 – Where can people go to hangout more with you?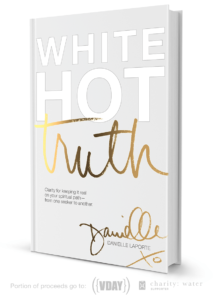 Thanks to the exuberant Danielle LaPorte for joining us on this episode. She is an author of multiple books, an invited member of Oprah's SuperSoul 100, and is one of the "Top 100 Websites for Women" by Forbes. You can learn more about her here.
Also make sure to check out Danielle's newest book "White Hot Truth" over here.
Have a podcast and need help editing it and making it sound amazing? Luke Humphries is your man! You can email him here.
The post #2: "Energy Follows Thought" with Danielle LaPorte appeared first on Shine Global.
11 episodes