Manage episode 298720857 series 2908030
By
Northon's Media PR & Marketing Ltd
,
Northon's Media PR
, and
Marketing Ltd
. Discovered by Player FM and our community — copyright is owned by the publisher, not Player FM, and audio is streamed directly from their servers. Hit the Subscribe button to track updates in Player FM, or paste the feed URL into other podcast apps.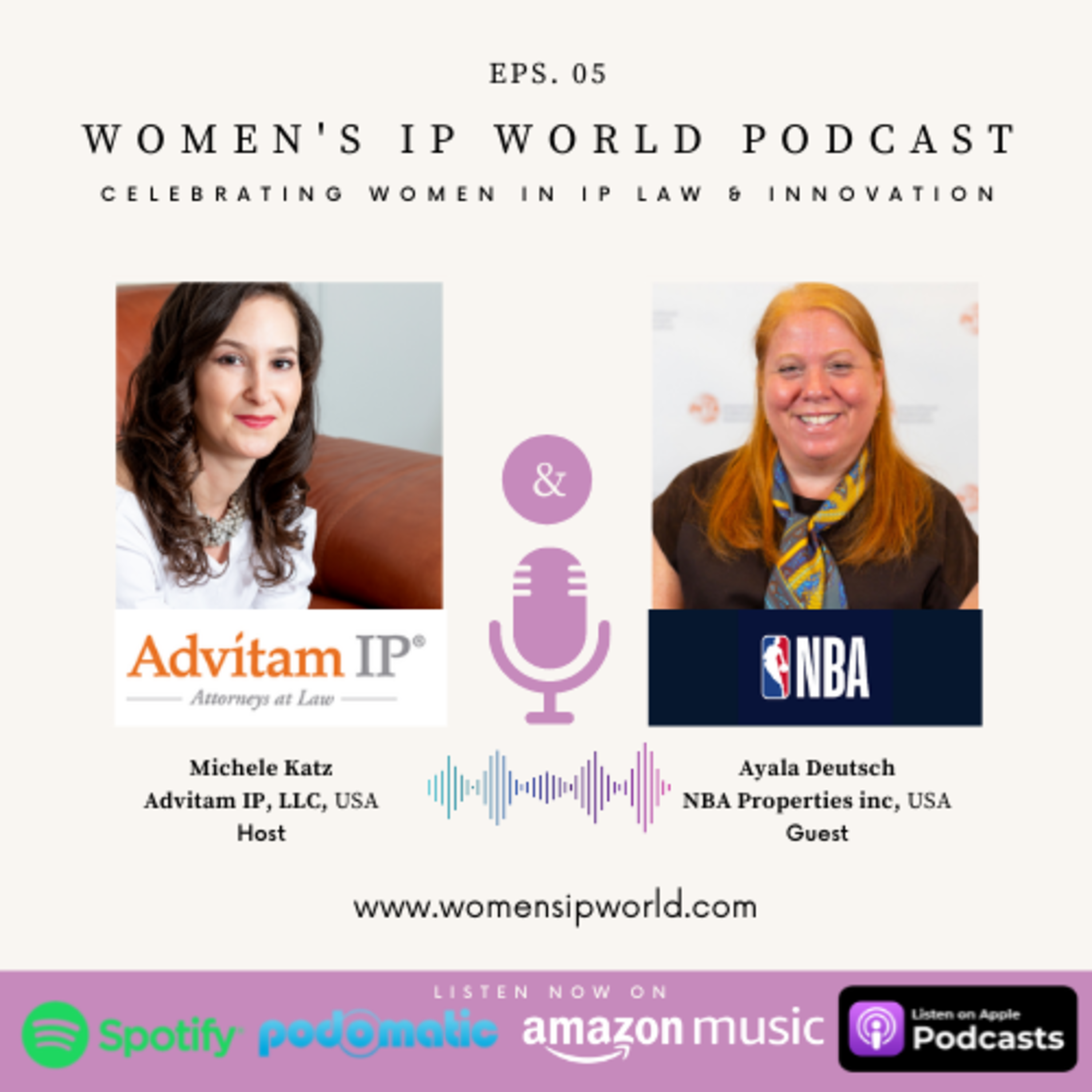 Host:
Michele Katz
Founding Partner at Advitam IP, LLC - USA
Guest:
Ayala Deutsch
Executive Vice President & Deputy General Counsel at NBA Properties, Inc, USA
In this episode, Michele speaks with Ayala Deutsch, Executive Vice President & Deputy General Counsel at NBA Properties, Inc about her INTA 2020 presidency and opening letter in The Women's IP World annual 2021.
As Executive Vice President and Deputy General Counsel of NBA Properties, Ayala Deutsch is responsible for managing commercial legal affairs and intellectual property matters for the NBA and its affiliated leagues, including the global acquisition, protection and enforcement of intellectual property rights belonging to the NBA, the Women's National Basketball Association (WNBA), the NBA G League, the NBA 2K League and their respective teams.
Her specialties include trademark law, copyright law and technology law. Deutsch was named to her current position in January 2016, after serving as Senior Vice President and Deputy General Counsel since February 2014. Deutsch also previously served as Senior Vice President & Chief Intellectual Property Counsel. She joined NBA Properties in January 1998.
Prior to joining the NBA, Deutsch was an associate at Cleary, Gottlieb, Steen & Hamilton in New York, where she specialized in intellectual property litigation and arbitration.
Deutsch formerly was appointed to the Trademark Public Advisory Committee of the United States Patent and Trademark Office and previously served as an adjunct professor of sports law at Cardozo School of Law and as President of the International Trademark Association. Deutsch also is a member of the Advisory Board of the Engelberg Center on Innovation Law and Policy at New York University School of Law.
Ayala received her J.D. from New York University School of Law in 1989.
You can read the full article here - https://edition.pagesuite.com/html5/reader/production/default.aspx?pubname=&edid=0cfc20ed-2f27-487a-9bdc-27e65ee3acf3
Listen to the article in audio format here - https://www.podomatic.com/podcasts/carlos54431/episodes/2021-02-12T07_48_01-08_00
Women's IP World website - www.womensipworld.com
Advitam IP, LLC website - www.advitamip.com
We have now started the candidate research process for the Women's I P World Annual 2022.
The Women's I P World annual is the industry's number one intellectual property law publication that celebrates the work and achievements of professional women working in I P, I P Law and innovation globally.
If you would like to be part of The Women's IP World Annual 2022, then please make sure to contact us today at +44 (0)203 813 0457 or email us at info@womensipworld.com
#femaleleadership #trademarklaw #womenwhoworkinlaw #celebratingwomen #trademark #patentlitigation #copyrights #trademarks #intellectualpropertylaw #womenininnovation #womenonlypublication #womeninip #womeniniplaw #womenempoweringwomen #womeninleadership #genderequality #diversity #womenleaders #womensipworld #womeninleadership #customs
17 episodes